Happy Friday! This is ridic.
Today's the day we let our peanut butter obsession reign.
Today's the day we slap My Fitness Pal across the face when it tells us we have 8.7 calories left to consume for the whole rest of the evening, and instead, we pick up a spoon.
Today's the day we turn healthy ingredients into a healthy ice cream and go into an egoic ice cream coma as we simultaneously pat ourselves on the back for winning all the ice creams.
Today's the day. Seize that shit.
My long-standing love affair with peanut butter came through with flying colors in this ice cream. I've always been a fan major of peanut butter frozen yogurt and ice cream, and since I recently acquired this Cuisinart Ice Cream Maker, I decided it was time to saddle up my peanut butter love boat and let it set sail.
Fun Fact: The ice cream base is made with full-fat coconut milk, peanut butter, maple syrup and a pinch of salt. No dairy, no egg yolks, no funny business.
Fun Fact #2: I made peanut butter chocolate ganache to swirl into the ice cream for some added harrumph, which pretty much sent my whole mind, body, and soul into a twitch fit as I forced the ganache away from my mouth and in the direction of the ice cream so that this recipe didn't turn into "Peanut Butter Ice Cream That Would Have Had Peanut Butter-Chocolate Swirl Had I Not Eaten All of It Like the Raging Food Addict I Am." So there's that.
You could just stop at the peanut butter ice cream, but whyyyyyyyy?! Why would you do that?
As it turns out, you feel a lot less guilty about eating ice cream in abundance when it's consumed with a spoon that says, "Let Them Eat Kale." So there's also that.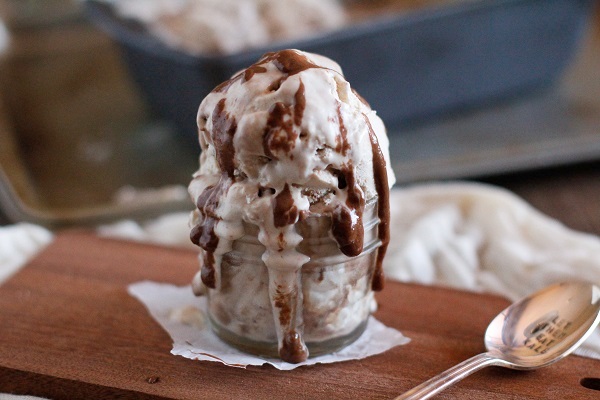 BT Dubs: How cool is that spoon? Megan from Ellie Rose Custom Jewelry hand stamped it and sent it to me along with a bracelet that also says, "Let Them Eat Kale" as a surprise.  What a doll, eh?! Love that woman.
Back to the creamage.
You want to rub it on your hands, feet, and hair. I get it. There's plenty to go around. It's so rich.
Your ego needs stroking. Make this and feed it to everyone.
Peanut Butter Chocolate Swirl Ice Cream
Ingredients
Instructions
Make the Peanut Butter Ice Cream Base:

In a saucepan, combine 2 cans of full-fat coconut milk with the peanut butter, maple syrup, and salt.
Heat over medium, stirring, just until the peanut butter becomes well combined and all of the chunks of coconut milk dissolve (you shouldn't need to bring the mixture to a boil). Let mixture cool, then pour it in a sealable container and place in the refrigerator until completely chilled.

Make the Peanut Butter Chocolate Ganache:

In a small saucepan, combine all of the ingredients for the ganache and heat over medium.
Stir all of the ingredients together until completely smooth and all of the chunks of cacao powder have dissolved. Bring to a full (but gentle) boil and continue cooking, stirring constantly, until mixture has thickened quite a bit, about 10 minutes.
Pour into a bowl and allow mixture to cool before covering. Refrigerate until completely chilled.
When you're ready to incorporate the ganache into the ice cream, you can heat it up for a few seconds in the microwave (just until it's leukwarm) and stir well, as there will be a little bit of separation.

Finish the Ice Cream:

Follow the instructions on your ice cream maker (mine requires you to freeze the bowl over night). Pour the peanut butter ice cream base into your ice cream maker and allow it to churn until creamy and frozen. Mine took about 20 minutes.
Add half of the ice cream to a freezer-safe container and spread to evenly distribute.
Add half of the peanut butter chocolate ganache on top of the ice cream and swirl it in.
Add the remaining half of the ice cream, followed by the remaining half of the ganache. Note: you can reserve some of the ganache to heat up for serving like a hot fudge if desired.
Cover and place in the freezer for at least 4 hours.
When ready to serve, thaw the ice cream for at least 10 minutes.
Serve in abundance!
Notes
*If you're using salted peanut butter, taste the ice cream base before adding any more.
http://www.theroastedroot.net/peanut-butter-chocolate-swirl-ice-cream/