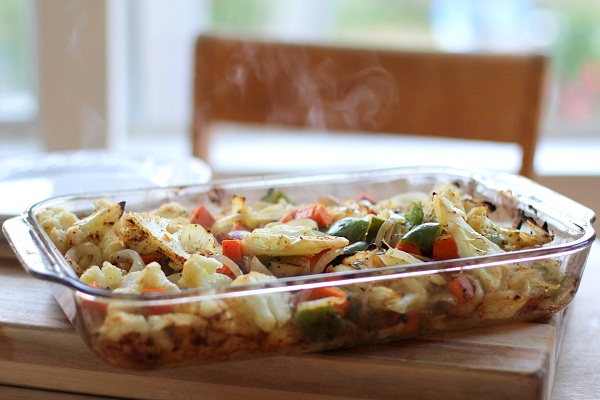 Born on the bayou? Yeah, me neither. You may have the same alligator chasing air boat day dreams as I, wherein there's an old rickety cabin with a weathered white beard overall clad cigar smoking banjo player. He plays, you float by on your alligator chasing air boat and at the end of the day everyone eats gumbo. That is, provided your day dreams are as specific as mine.
If you enjoy rollin' on the Cajun food day dream river, if you need vegetables in your life, if you're trying to coax the toxins out of your post-Easter Brunch body, if you like to eat…Cajun your veggies, baby and don't ever look back!
Credence Clearwater Revival is the non-food item portion of this recipe. If you're a food and music pairing person – no doubt you are, you vixen, you – CCR's what you put on your Pandora while you prance about the kitchen chopping vegetables, flinging spices like you're hearing it through the grapevine looooud and clear.
This is without a doubt the easiest roasted vegetable recipe you will ever lay eyes on. The Cajun seasoning is your key to success. It puts flavor all up in your veggies so effortlessly. You can use virtually any vegetables you like with this recipe.
Put aside those pastel colored candies for a minute, Pandora you some CCR and get to choppin – you can really un-do a lot of doing with a roasted vegetable dish. Scout's honor.
Cajun Seasoned Roasted Vegetables
Ingredients
1 head cauliflower, chopped into florets
1 sweet potato, chopped into ½" squares
1 green bell pepper, chopped into 1" pieces
2 red potatoes, chopped
1 large yellow onion, sliced
3 tablespoons olive oil
1/4 cup chicken or vegetable stock
1/2 teaspoon salt or to taste
2 teaspoons Cajun seasoning
Instructions
Preheat the oven to 400 degrees F.
Add all chopped vegetables to a casserole dish.
Pour the olive oil and vegetable over the veggies and then sprinkle them with the Cajun seasoning and salt.
Either use your hands to mix everything together (my preferred method) or use a large spoon to ensure veggies get coated with oil and seasoning.
Roast the vegetables for 45 to 55 minutes, stirring 2 or 3 times to ensure even cooking.
The vegetables are done when they are cooked all the way through (sample a piece of sweet potato to make sure it's soft) and have some color to them.
Serve with your favorite hunk of meat.
Notes
If you enjoy a nice char or crisp on the outside of your vegetables, you can put your oven on the broil setting after your vegetables are finished roasting and broil them for a few minutes to get a little crisp on.
http://www.theroastedroot.net/cajun-seasoned-roasted-vegetables/
More Delicious Roasted Vegetable Recipes:
Roasted Winter Vegetables with Miso-Lime Dressing from The Kitchn
Roasted Apple and Brussels Sprouts Grain Salad from A Farmer in the Dell
Crispy Lemon Garlic Fingerling Potatoes from Perry's Plate
Balsamic Roasted Root Vegetables from The Roasted Root
Marsala Roasted Vegetables from The Roasted Root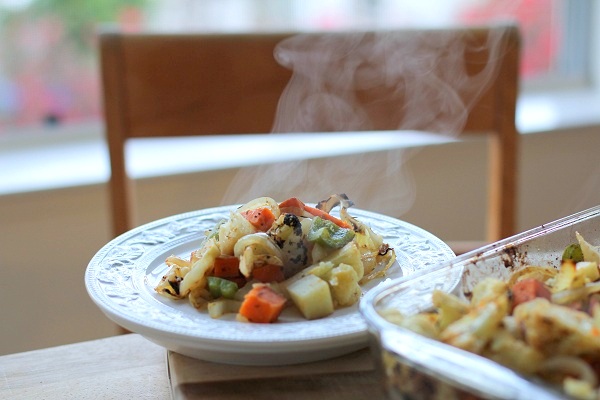 mmmm…fresh out of the oven!